Recipients
Awards are presented annually at Alumni Day. 
Congratulations to the 2019 Alumni Association Award winners! 
Achievement Award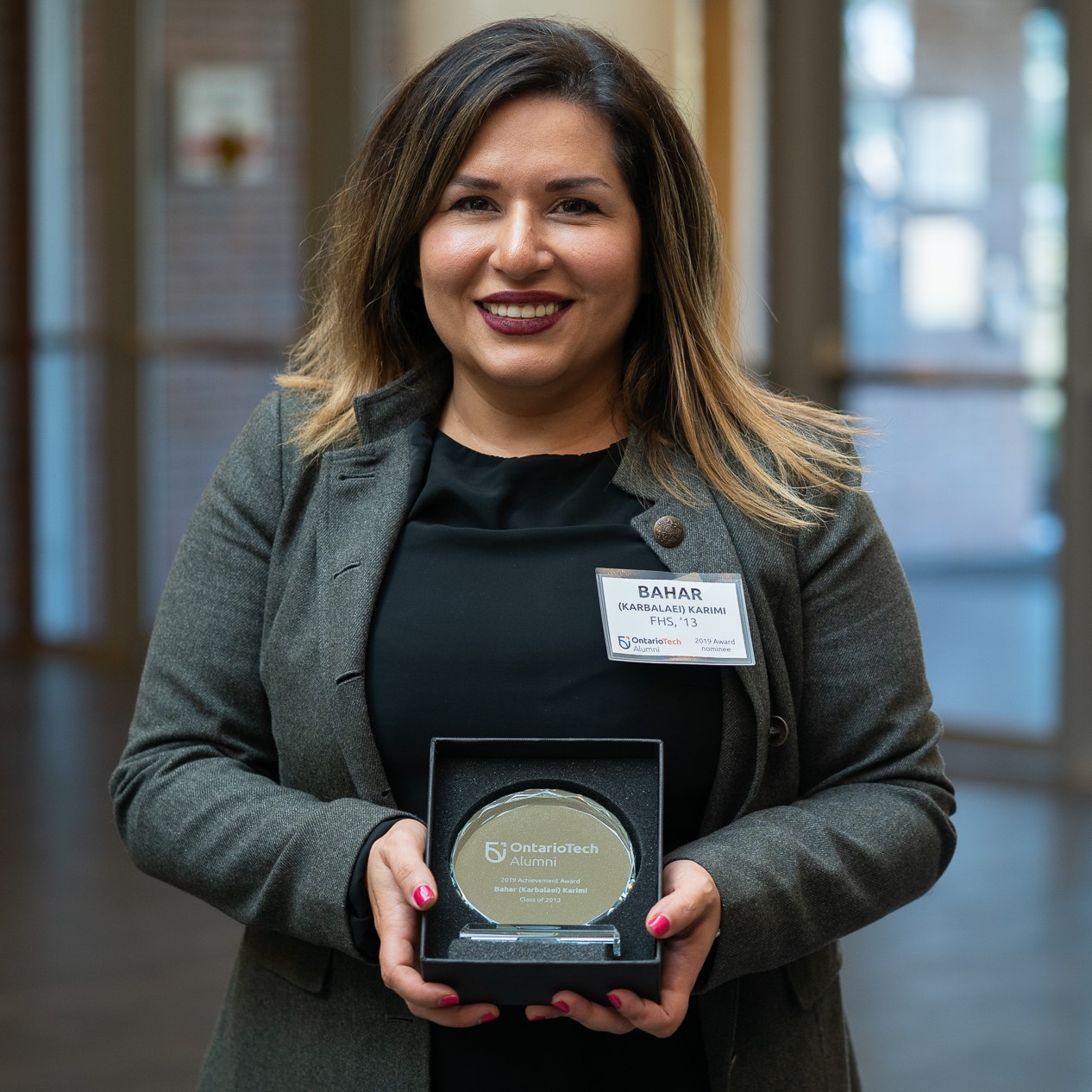 Bahar (Karbalaei) Karimi 
Bachelor of Science in Nursing
Class of 2013
Bahar has been an innovative leader throughout all of her academic and professional endeavours. She graduated from Ontario Tech with the highest distinction in 2013. With a Bachelor of Science in Nursing under her belt, she went on to earn a Master of Nursing and Master of Health Sciences in Health Administration from the University of Toronto. She continues to pursue academic excellence and is currently enrolled in the PhD (Nursing) Program at Western University. Bahar has also completed a variety of professional development programs such as the Crisis Intervention Program (2014) and Administrator Leadership program (2016).
Her strong background and performances in nursing saw her featured in the Registered Nurse Journal in 2017, and she was the Ontario Tech Nursing Program Salutatorian in 2013.  Most notably, Bahar was awarded the Registered Nurses Association of Ontario HUB Fellowship, which is a prestigious award recognizing her immense leadership potential.
Bahar's professional experiences boast of both direct nursing and leadership roles, with her greatest impact in healthcare. A prominent achievement of hers as a healthcare leader is currently her position as the Administrator of Castleview Wychwood Towers, which is the largest long-term care home operated by the City of Toronto. She has also been a Nursing Instructor at Seneca College and Associate Director of Care and Director of Resident Services at St. Peter's Residence. She was also the Executive Director of the McCall Centre for Continuing Care. 
---
Up and Coming Award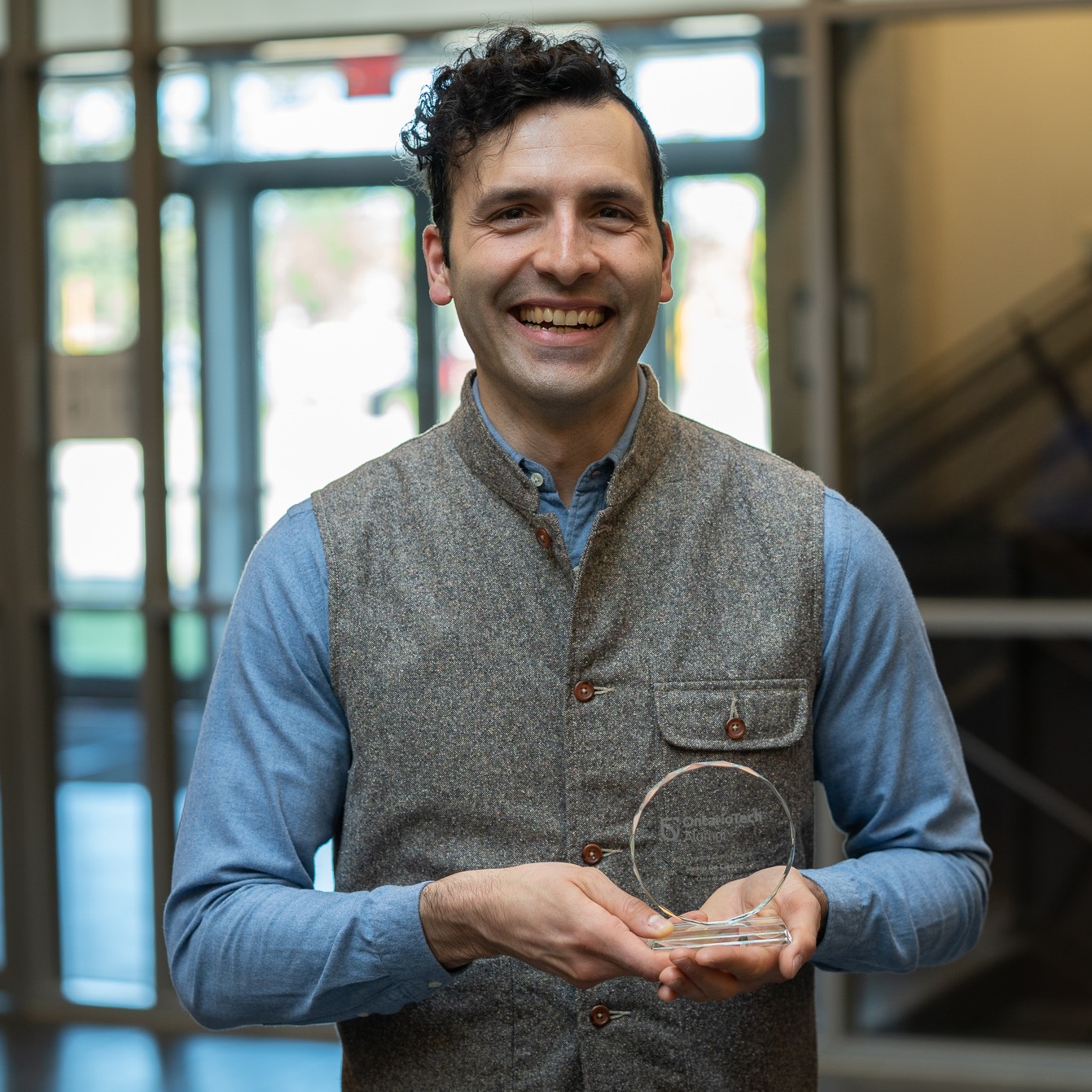 Marco De Ciantis 
Master of Health Sciences 
Class of 2017
Since graduating with a Masters in Health Sciences from Ontario Tech in 2017, Marco has contributed vastly to healthcare. He and his identical twin brother currently co-operate a multi-disciplinary clinic in which they mentor peers and students that are interested in healthcare, as well as shadowing doctors and therapists. In addition to this, Marco goes to multiple hospitals and facilities to regularly co-manage patients with several Practitioners, Rheumatologists, and Personal Trainers. The objective of these efforts is to improve patient experience and care, and his desire to do that has resulted in better outcomes amongst patients. As a result, he was awarded Top Chiropractor in Toronto in 2017 and by Top Choice Awards in 2018. Due to Marco's focus on a collaborative care environment within the facilities he works in, he was also awarded the Patient Care Award in 2018, from the Ontario Chiropractic Association.
Marco has also volunteered as a medical staff at numerous events, most notably the Greek Canadian Games from 2017 to 2018. Marco then took his expertise beyond the border with the Bridge-to-Health, a humanitarian Toronto-based group, to practice collaborative care in rural Uganda. A notable task he accomplished in his time there was teaching the local clinical officers how to examine and treat musculoskeletal injuries. Marco's nominators said he displayed tremendous leadership abilities throughout the whole trip with his calm and confident personality that was appreciated by his students and peers.
---
Philanthropic Award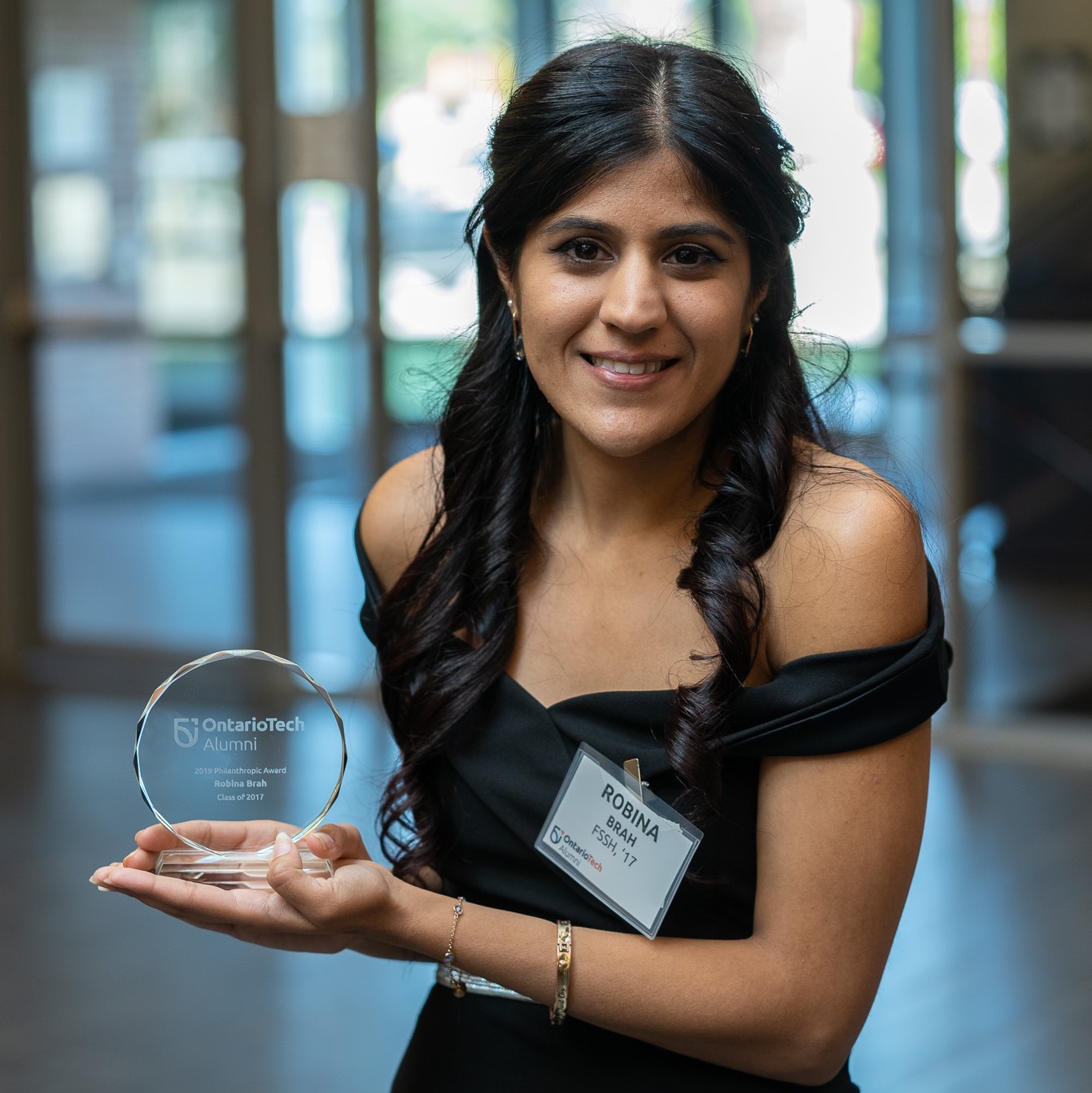 Robina Brah 
Bachelor of Arts in Forensic Psychology and a Minor in Criminology
Class of 2017
Robina is a role model for others in her community. Robina feeds members of the homeless community, mentors at the Children's Aid Society, and has written a children's book, A Porcupine in a Pig's Town, which aims to teach children about diversity and inclusion. Robina frequently works on project proposals in her own time regarding innovative solutions to community challenges, some of which have received media attention. Known as an ambitious activist and dedicated volunteer, Robina has a voice that affects many, which is why she has participated in speaking events such as a Leadership Panel on "Why Oshawa Matters" and Ontario Tech's Alumni Day in 2019. 
Robina obtained a Bachelor of Arts in Forensic Psychology and a Minor in Criminology from Ontario Tech in 2017. She intends to pursue further education in leadership. 
Congratulations to our past winners!