Events
Throughout the year, the university and the Alumni Association Council organize a variety of events that provide opportunities to catch up with old friends and network with fellow alumni. We hope you will join us! 
Stay up-to-date about #OTAlumni activities by following us on OTAlumni Facebook, OTAlumni Instagram, OTAlumni Twitter and our LinkedIn Showcase page. 
---
2022 Events 
Attention 2020 and 2021 graduates!
We know your final years with us did not go as any of us had planned, but we want you to know that we have not forgotten about you. We are actively planning a special event for just you in the fall and we can't wait to celebrate you in person! Make sure to update your contact information with us so you don't miss the announcement!
---
2022 Alumni Speaker Series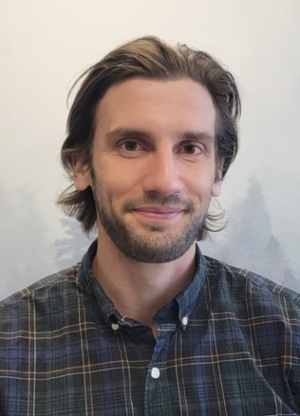 Drew Wade, Class of 2018, Tundra Technical | Wednesday, October 19 | Virtual
Join Drew for an evening of career advice. Drew will cover everything from resume writing to navigating contract positions during his hour-long presentation. Then, join Tundra Technical recruiters in networking breakout rooms for one-on-one assistance!

Drew started in consumer telecom sales while still attending Ontario Tech. He graduated from the Political Science program in 2018 and later joined Tundra Technical as a recruiter. He has since moved into account management and service large EPC (engineer, procure, construct) clients in Nuclear, Aerospace, and Public Infrastructure. Drew's goal is to teach students and alumni how to break into those industries and establish a relationship for when they're ready to enter the job market.

Industries Drew services: Nuclear, Aerospace, Public Infrastructure

Skillsets Drew looks for: Mechanical, Electrical, Instrumentation and Controls, FPGA Design, Software Engineers, Fire Protection, Human Factors Engineering, Process Engineering
---
Chancellor's Challenge
Saturday, September 24, 2022 | On-campus event
Ontario Tech University's Chancellor Mitch Frazer invites all alumni back to campus for the 2022 Chancellor's Challenge, a five-kilometre run or walk to raise funds for student bursaries and scholarships. As a champion of students and technological and social innovation in education, Chancellor Frazer has created the Chancellor's Fund with a $1 million goal.
Can't come to campus for the run? Learn how to become a champion!
Women for STEM Summit
The Journey to Sustainable Equity | Wednesday, October 12, 2022 | In-person event
Mark your calendar to join us for our fourth annual Women for STEM Summit where we will hear from leaders who are reimagining and refreshing their organizations to develop a more equitable future.  
Join us on October 12th for a discussion on achieving sustainable equity and how women in STEM careers are helping to shape that future.
Learn more about the 2022 Women for STEM Summit and Mentorship Program.
---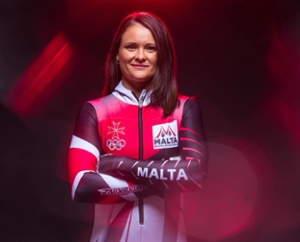 Alumni Day and AGM | Saturday, June 25 
Thank you to everyone who joined us for our Alumni Day and AGM on June 25! A special thank you to keynote speaker, Shannon Galea, Faculty of Education, Class of 2011 for sharing her inspiring journey from Ontario Tech to the skeleton track. 



---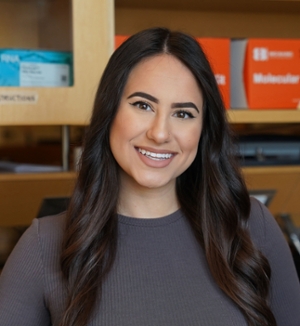 Alumni Speaker Series Event: A Fireside Chat with Sarah Habibi
The Alumni Association Council would like to thank everyone for attending the Fireside Chat with Sarah Habibi on May 4. Sarah shared tips she learned during her journey from Ontario Tech to her personal brand, Science Bae.  
Thank you for sharing your experiences with us, Sarah!
---
Pi Day Speaker Series and celebrations | March 14 to 25, 2022 
Thank you to all the Ontario Tech alumni, faculty, staff, students and members of our community who came together for our students during our Pi Day of Giving celebrations. Together, we raised more than $156,000 in support of the endless possibilities for students at Ontario Tech.
Missed our Pi Day of Giving Speaker Series? Watch all of the recordings now!
---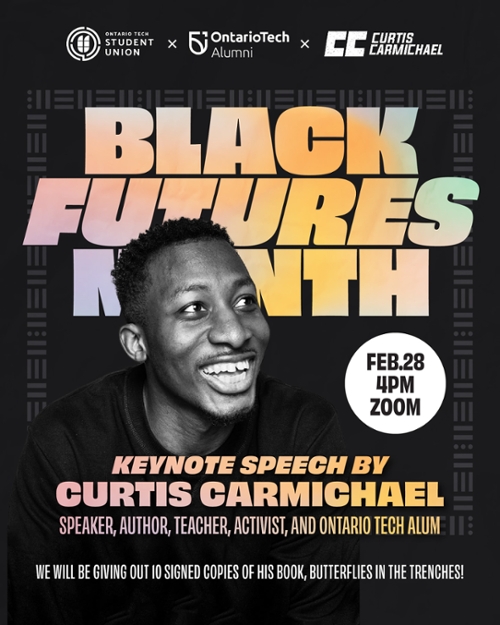 Black Futures Event featuring Curtis Carmichael | Monday, February 28, 2022
Thank you to alumnus Curtis Carmichael for joining the Alumni Office and the OTSU to discuss his journey from Scarborough to rising celebrity – instilling words of wisdom, hope, and inspiration. Curtis' augmented reality memoir is available for order on his website.  
---
Ontario Tech Ridgebacks | Ongoing
One of the best ways to show your Ridgeback pride is by attending varsity games throughout the academic year. Hunter the Ridgeback loves seeing alumni back on campus and looks forward to helping you cheer the Ridgebacks to victory while you rep your orange and blue. Visit goridgebacks.com to find the Ridgebacks Varsity schedule, as well as special theme and promo nights scheduled throughout the season.
---
Alumni Movie Night | Virtual 
Thanks for joining us for a bit of holiday fun during the Alumni Association Council Klaus watch party on Thursday, December 16!
---
Career Series | Virtual 
Ontario Tech Alumni have continued access to services offered through the Career Centre at no charge. In fall 2021, we offered a series of workshops with the Career Centre to help alumni refine everything from their LinkedIn profile to their interview answers. 
Thank you to our speakers for sharing their expertise with us. We look forward to offering more sessions in 2022. 
Previous sessions: 
Tuesday, October 26 | Get Connected with LinkedIn | Facilitated by Abdullah Tok
Tuesday, November 9 | Resumes in the Virtual Age | Facilitated by Darren Grant
Tuesday, November 23 | Interview Excellence | Facilitated by Amanda Miller
If you would like to connect with the Career Centre to take advantage of Alumni career supports, visit their contact page.
---
Sketching for Self Care | Virtual Sessions 
A huge thank you to everyone who joined us for Sketching for Self-Care! We hope the exercises shared will help you relax and focus. 
Previous session dates: November 18, 2021 and January 27, 2022
---
Speaker Series | Virtual 
The Alumni Association Council is pleased to be able to move the Alumni Speaker Series Events to a virtual format. Although the networking portion of the events won't be possible, we will still have the opportunity for questions and answers from our speakers.
2022 Series 
Wednesday, May 4 | Thank you to Sarah Habibi for sharing her experience from Ontario Tech student to social influencer.
2021 Series 
Thursday, January 28 | Thank you to Travis Dutka, Class of 2008, Culture Curator at 360 Insights who discussed everyone's responsibility in establishing workplace culture with his session called Workplace Culture: How to spot it and how to create it.
Tuesday, February 23 | Thank you to 

Emily Uza and Megan (Friel) Legge for inspiring us during their Ridgeback Alumni panel

Wednesday, April 21 | Thank you to Carleigh T

aggart, Ruth Richards and Sweta Tejpal for hosting a session about pursing a career in different fields of Law. 

Thursday, May 13

| Thank you to Allison Ng, Fabio Campoli and Kayla De Souza for sharing their journeys from student-athletes to educators. 
Past events
Aug 7, 2020 |Thank you to Emma Blackwood, Class of 2017 and Keegan Guidolin, Class of 2013 for hosting a session about purusing Medical School after Ontario Tech.
May 5, 2020 | Thank you to Jaclyn Gibson, Class of 2014, Human Resources Analyst, County of Northumberland for hosting a virtual session.
April 16, 2020| Thank you to Wayne Cuervo, Director of Innovation, Cisco Canada for hosting a virtual session. 
---
Pi Day of Giving Events | March 1 - 14, 2021
March 14 is the university's fourth annual Pi Day of Giving: a day devoted to supporting our students and growing our circle. This year we are taking #OntarioTechPiDay virtual with events to inform and entertain!
Speaker Series | March 1 - 12, 2021 
We will be hosting virtual sessions taking place Monday to Friday (March 1 to 12) beginning at noon, the sessions will provide an opportunity to hear from a wide-range of Ontario Tech speakers on a variety of topics.
Pi Day of Giving Trivia Game | Sunday, March 14, 2021 
Channel your inner trivia whiz and join us for a chance to win prizes in support of Ontario Tech Pi Day. Registration coming soon!
We will be using Kahoot! for our trivia event. Kahoot! is best used with two devices; one, like a computer, to view the questions through our event platform and a second device, like a cell phone, to submit your answers. If you only have access to a computer, you can still play! You can open a browser to submit your answers, you will just need to make sure you can still see the shared screen in the event platform. 

Visit kahoot.com if you want to try out the platform prior to March 14!
---
2019 Events - Thank you for joining us! 
Student-Alumni Connect Happy Hour | February 28, 2019
Free Pi Day Community Movie Night! | March 12, 2019 
Ridgebacks Alumni Reception and Athletic Awards Night | March 28, 2019
Alumni Night at Riley's Pub | April 25, 2019
Alumni Reception in Bruce County | May 10, 2019
Alumni Speakers Series featuring Michele Cox | June 19, 2019 
iLaunch My Career: Conference for Ontario Tech Graduates | June 20, 2019 
Alumni Reception in Calgary | July 2, 2019 

 

Alumni Night at the Blue Jays | July 24, 2019 
Alumni Day | October 5, 2019
Women for STEM Summit | October 17, 2019 
Ontario Power Generation (OPG) Alumni Event | November 25, 2019
Alumni "Breakfast & Learn" at 360 Insights | December 4, 2019