Category:  
Passion is the catalyst for Edward's success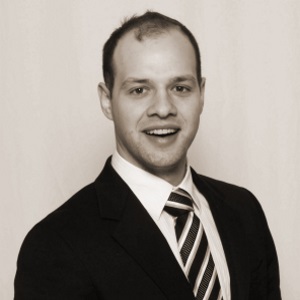 Edward Draycott | Class of 2012
Bachelor of Commerce (Honours), Marketing
When it comes to developing a successful career, Edward's philosophy is: Don't do anything for the money – passion is the catalyst for success!
Edward feels fortunate that UOIT requires new Commerce students to gain a foundation in numerous business disciplines. It was during his first couple of years at the university that he discovered a passion for marketing and advertising, an interest that shaped his career.
By working with intelligent and ambitious peers in different disciplines, Edward learned new approaches to solve problems and drive innovation. This experience left a lasting impression that has inspired him to always think and work harder.
Just before he graduated, Edward was recruited as Marketing and E-Commerce Manager for Etobicoke, Ontario-based Itemex, Canada's leading provider of printer toner supplies. Networking then led to a position as Trade Channel Marketing Co-ordinator for Masco Canada in Mississauga, Ontario. This is the Canadian division of Masco Corporation, one of the world's largest manufacturers of brand-name products for the home improvement and new home construction markets.
In 2013 Edward founded his own company, Standout Grads. His business creates distinctive personal brands for post-secondary students and recent graduates, enabling them to stand out from other job applicants and position them for career success. Edward credits UOIT with giving him the tools and knowledge, the right balance of academics and market-driven entrepreneurial learning and access to professors who are global experts in their fields, and for enabling him to successfully launch his company.
Edward also volunteers his expertise. In 2012, he created and helped implement a social media and marketing campaign to secure thousands of online votes for a competitor to win the last spot available in the Toronto Raptors Dance Pak. He served a similar role to promote a new local hockey store as well as for a volunteer marketing organization that assists small businesses.
What's next for this passionate marketer? He's currently completing a Master of Science degree in Global Marketing with the University of Liverpool's distance education program. Eventually he wants to obtain a doctorate degree and become a marketing professor – ideally at UOIT.