Ontario Tech PhD student's research examining how firefighters take the heat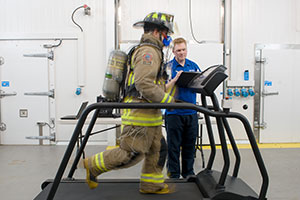 Everyone recognizes firefighting as a risky occupation – the work can be difficult and dangerous at any time. Firefighter heat stress is always a major risk, even with today's high standards for safety equipment. There are limitations as to how much heat the human body can withstand while still being able to maintain normal cognitive functions.
New research at the Ontario Tech University (Ontario Tech ) is exploring those limits by conducting physiological experiments in the controlled environment of a climatic chamber inside ACE, the university's $100-million multi-purpose dynamic testing facility. When all is said and done, researchers at the university expect the findings will help them develop a video game simulation (known as a serious game) for firefighters to play, in the fire hall or at home, to hone their decision-making skills in preparation for cognitive tasks at an actual fire scene.
The collaborative study, which involves a number of organizations, is the research focus of Ontario Tech PhD candidate (Applied Bioscience) Michael Williams-Bell.
"We are trying to pinpoint at what level and rate of rise in core body temperature we can observe cognitive impairments in firefighters," says Williams-Bell. "Understanding the precise levels and triggers will allow fire captains and chiefs to utilize their personnel resources more appropriately to make their job more efficient, effective and safe."
A team of 20 firefighters with the Toronto Fire Services was recruited to undergo moderate-intensity treadmill exercise inside the ACE climate chamber.
"Taking the research indoors allows us to have consistent, made-to-order environmental conditions that replicate temperature and humidity readings at an actual emergency," explains Williams-Bell.
The chamber temperature was set at 30°C and 35°C, with 50 percent humidity. Throughout the exercise, the firefighters' core temperature continued to increase due to wearing firefighter clothing, which restricts a person's ability to properly regulate their body temperature. At various points (pre-test, 37.8°C, 38.5°C, 39°C, post-test, post-recovery) their cognitive abilities were assessed. The new data is being combined with previous literature on the tolerance times of firefighters working in the heat.
"With the new information, incident commanders at a scene will be able to determine the length of time it would take for a firefighter's core temperature to reach a level that could impair their cognitive function. We also intend to eventually examine cold-weather scenarios."
If researchers conclude a video game simulation could help assess the decision-making skills of firefighters, training expenses could be reduced and potential health risks minimized.
"The multidisciplinary approach the research has taken has allowed me to collaborate with a wide range of academic partners. Researchers with the Ontario Tech Faculty of Business and Information Technology's (FBIT) Game Development and Entrepreneurship program are connected to this, as well as researchers from the Canadian Memorial Chiropractic College and the University of Manitoba."
Research partners:
Ontario Tech University

Dr. Bernadette Murphy, Professor, Faculty of Health Sciences (FHS)
Dr. Tom McLellan, Adjunct Professor, FHS
Dr. Michael Holmes, Assistant Professor, FHS
Dr. Andrew Hogue, Assistant Professor, Gaming, FBIT
Dr. Bill Kapralos, Associate Professor, Game Development, FBIT
PhD candidate Michael Williams-Bell

Toronto Fire Services
University of Manitoba
Canadian Memorial Chiropractic College

Dr. Diane Grondin
Dr. Sam Howarth
Dr. Sil Mior

Natural Sciences and Engineering Research Council (Alexander Graham Bell Canada Graduate Scholarship)
Workers Compensation Board of Manitoba
Williams-Bell has also been presenting his research to a wide audience through his participation in the 2015 Three Minute Thesis (3MT®) competition for university students around the world. He won the Ontario Tech 3MT® showdown from a field of 27 candidates and represented the university at the provincial finals.
"My main reason for enrolling in graduate studies at Ontario Tech was the opportunity to work with a multidisciplinary team. This includes my primary supervisor Dr. Bernadette Murphy, who is a leading researcher at the university; Dr. Tom McLellan, a co-supervisor and Adjunct Professor with Ontario Tech 's Faculty of Health Sciences, who is at the top of the Occupational Physiology field as well as a retired Defence Scientist with Defence Research and Development Canada. I was also drawn by the chance to collaborate with Ontario Tech researchers to develop technological advances in serious games, and to conduct research in ACE – a state-of-the-art climate chamber and testing facility unlike any other the world."