Category:  
Achievement Award winner and alumna continues to build successful chiropractic practice.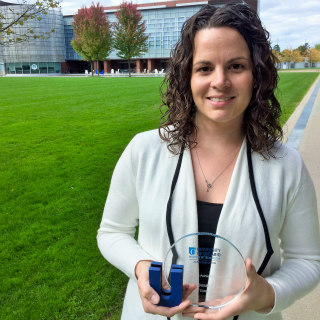 Dr. Jessica Dee | Class of 2011
Bachelor of Health Sciences
Faculty of Health Sciences

Dr. Jessica Dee grew up in the small town of Orono, Ontario and has always been motivated by a sincere desire to help people in need. In 2007 Jessica began her undergraduate studies at Ontario Tech University. She knew she wanted to help people, but like most students, she was yet to completely decide what path would merge her altruistic predisposition with a meaningful career. She entered into the Health Sciences faculty and dove head first into student life, regularly attending school events and becoming a regular fixture at on-campus events and student led activities.  
Following her undergraduate studies, Jessica went on to pursue a Chiropractic degree at the Canadian Memorial Chiropractic College. Jessica's determination and dedication to her chiropractic studies mirrored that of her time at Ontario Tech University. She worked tirelessly, and in 2016 graduated with her Doctor of Chiropractic degree. Since graduation she has continued to strive for success as she builds her practice at Clarington Total Wellness and provides the highest quality care for her patients.  
Jessica was nominated by her peers for an Alumni Association Award in 2018 for her consistent pursuit of academic achievement and commitment to service in her community. Unsurprisingly, this accomplished alumna was selected by the awards sub-committee and accepted the Achievement Award at Alumni Day 2018 in October.