Category:  
Grad treats chronic health conditions with physiotherapy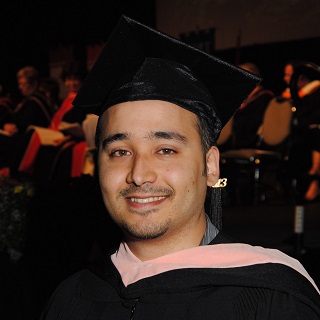 Pouya Hariri | Class of 2013
Bachelor of Health Science (Honours), Kinesiology
Pouya is intrigued by human movement. In fact he's so intrigued that he's developing a career in kinesiology and musculoskeletal rehabilitation. Just recently graduating from the postgraduate exercise science and lifestyle management program at Humber College, Pouya intends to harness the power of human exercise physiology to treat chronic conditions.
Drawn to the holistic health discipline of kinesiology, he was equally drawn to the university's "holistic, creative way of teaching." He says the instructors used "amazing psychological skills to tap into students' creative psyches."  At the same time, the ubiquitous use of the Internet and laptops at the university helped him learn quickly and efficiently.
 
UOIT also pushed him to be on top of his game. As soon as he graduated, he secured a volunteer position in a physiotherapy clinic where he gained 130 hours of experience in musculoskeletal rehabilitation. This was an important prerequisite for entry into the program from which he recently graduated. With a view to becoming a physiotherapist, next Pouya plans to acquire certifications as a personal trainer and an exercise physiologist with the Canadian Society for Exercise Physiology. He also intends to attain his credentials as a physiotherapist from the College of Kinesiologists of Ontario.
 
Pouya sees unlimited potential in this field. "You can work in all kinds of rehabilitation – musculoskeletal, cardiac, neurological – using your knowledge of human anatomy and physiology, kinetics, and people skills to effect the best plan of care for patients." He's confident his degree will help him get there. "A major asset that came out of my education was the ability to manage time," he says. "I learned the kind of discipline I need to set and meet deadlines, which are critical to not only getting credentials in school, but also working effectively with patients."