Category:  
Community Leader Helping the Vulnerable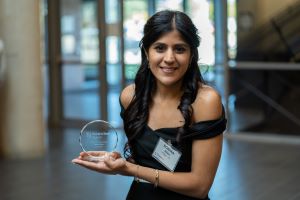 Robina Brah | Class of 2017 | Bachelor of Arts 
Philanthropy Award Winner Focuses on supporting Vulnerable Members of Community
Since graduating from Ontario Tech in 2017 with a Bachelor of Arts in Forensic Psychology and a Minor in Criminology, Robina Brah has turned her focus to the field of leadership administration. A layoff at her Service Ontario job due to COVID-19 has offered Robina more time to focus on her career goals and fuel her passion for supporting vulnerable members of our community through advocacy and extensive volunteer work.
Philanthropy drives Robina, and she is a role model and advocate for others in her community. Last year, the Ontario Tech Alumni Association awarded Robina the Philanthropic Award for leadership and active service to her community. Currently she volunteers with an organization called LIFE Rally on the 3rd Sunday of every month  at Memorial Park in Oshawa. Working with others, she prepares and serves delicious prepared meal choices, and provides social interaction. Her hope is to get other Support services on board so that the homeless can access them.  "I'm really excited about what we are doing through this LIFE initiative – it stands for Love Is For Everyone and focuses on drawing people together, rather than just offering a handout." Robina explains. "Since COVID, others in the community have really stepped up to navigate these events with caution to protect everyone's safety; this has provided an opportunity to be creative and find new ways to work through the kinks and navigate around barriers. For example, instead of us distributing food at the park, we prepackage the food and drop it off to the park, getting the main distributor to distribute the food."
Robina hopes to enter local politics by running for Education Trustee. This role would allow her to build on her current experience and skills in issues management and advocacy, while helping to shape Durham's education system. She is also actively involved in efforts to support local businesses, through leadership panels, motivational speaking engagements and initiatives such as Eat out Wednesdays which support local restaurant businesses.
She also looks forward to launching her first publishing project with co-writer Leah Hans - a children's book grounded in a message of inclusiveness and community engagement for social wellbeing .A Porcupine in a Pig's Town is built around the premise of the three little pigs however, instead of the wolf blowing down the individual houses the 3 pigs all build one house together with Spike the porcupine using elements in the community such as love, diversity and inclusion to make the house become a home."I have plans to continue writing stories which deliver learning to children on various important universal topics, such as bullying," says Robina.
Robina credits the university for bringing her to this point in life – "My experiences from Ontario Tech allowed me to build my networks, meet new friends and gain the knowledge and tools that I needed to truly discover who I am…a community leader!"