Category:  
Alumnus shares insight on purpose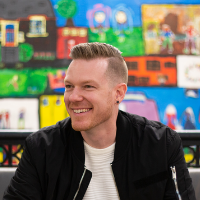 Travis Dutka | Class of 2008 |Faculty of Business & IT
"I want to make work more human. I want to help people connect purpose in their lives to purpose at work."  
As the Culture Curator for 360insights, a global rebate and incentive management company based in Whitby, Travis credits his alma mater with shaping his career trajectory – and ultimately leading him to the Human Services field.
"One of the biggest influences that Ontario Tech has had on me is the relationships I made there and how they've been intertwined in my life, for advice and in friendship and mentorship along the way," says Travis.
The Oshawa native entered the Commerce program at Ontario Tech University in 2004. Actively involved in campus life, Travis served as Vice-president of the Student Association and, after graduating, was Homecoming chair for the five-year class reunion.  
"If you're a student, I suggest you get involved any way you can, in the clubs and the extra-curricular as well," says Travis.  "And I recommend connecting with your profs as much as you can and then anyone who has graduated, reconnect with your profs."
After graduation, Travis joined Jameson Bank as a corporate trader and then moved on to become Media Director for a religious organization in Ottawa. In 2012 he relocated back home to join 360insights, a company that has been recognized numerous times as a top employer and as the Best Place to Work in Canada by the Great Place to Work Institute. "In my opinion, relationships are key to a healthy organization. I don't work with a number or a task I work with a human doing those tasks," says Travis.
Since joining 360insights, Travis' role has shifted from marketing, to talent acquisition, and now to culture maven. He's responsible for shaping the corporate culture to fit the organization's values, vision, direction and principles. "If you can connect with purpose and you can be inspired by passion and do what you do, those are the things that really matter," says Travis
Not only is he working in Durham Region, Travis has also made his home here. He and his wife, Shannon, are raising their two young children, Grayson and Kaia, in the community they love.