Category:  
Basketball Coming to UOIT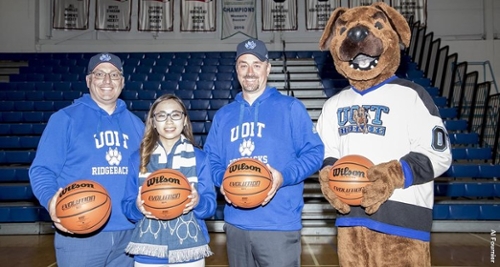 President Steven Murphy, Student Union President Jessica Nguyen, Athletic Director Scott Barker and Hunter were on hand to make the announcement that men and women's basketball teams are set to launch in the fall of 2019. 
 "We are thrilled to add basketball to our roster of varsity sports at UOIT," said Scott Barker, Athletic Director. "There has been a demand from the student body to add this sport since we started up over a decade ago and I am excited that we are now ready launch the program. It's an exciting time to be on campus as we continue to grow. This is going to further spark the Ridgeback spirit of the student body and the sporting community across the Durham Region."
 
Basketball is the first sport to be introduced at the university since men's and women's badminton, which made its debut in 2016. The university is pleased to be the host of the OUA 2019 championships early next year. Check out the Ridgebacks website for news, including home game schedules for your favourite Ridgeback sports. As with all Ridgeback home games, discounted tickets are available for alumni tickets.
Meet the Basketball coaches
Christa Eniojukan, Women's Head Coach

Greg Francis, Men's Head Coach