Category:  
Nursing Grad Gives Back to the Community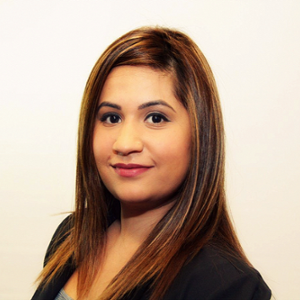 Kiran Somjee | Class of 2012
Bachelor of Science (Honours), Nursing
Kiran has found her calling.  "What I love most about nursing is the difference that we make in the lives of our patients, their families & our community" she says. "Coming home after work knowing that what you did helped others is the most rewarding part of my career."
As a Registered Nurse, Kiran works as a Public Health Nurse for the Regional Municipality of York in the Health Equity program. Her work as a Health Equity specialist and consultant for the Public Health Branch focuses on health promotion, capacity building and education related to the social determinants of health. "Addressing the underlying root causes for poor health such as income and education," she says, "I consult with our teams to help them incorporate a health equity lens into the planning and implementation of their Public Health programs and services."
During her studies, Kiran always wished she had someone to talk to from a student perspective.  In her fourth year, Kiran decided to create a program that would be that support for students who were just starting their nursing studies. She pitched the idea of creating the Helping Hands Nursing Mentorship Program to the Faculty of Health Sciences, a project that received overwhelming support from both administration and peers.  Today, the program that Kiran founded, directed and led a few years ago is helping students across the faculty, through the nursing community and even in the Student Experience Centre.  She is very happy that this program has eased the concerns for students who are just starting out in their university career.
Nursing is a technical profession requiring an in-depth understanding of medicine and expertise in a range of practical skills, and Kiran believes that UOIT delivered. "The UOIT nursing program, complete with practicum placements, gives students not only the textbook education but also the hands-on experience required to develop the necessary skills."
As past president of Students for Humanitarianism and Action through Respect and Education (SHARE) as well as Founder & Director of the Helping Hands Nursing Mentorship Program, Kiran also had opportunities to develop and strengthen her leadership skills which have complimented her career. "UOIT supported my ideas for new programs and initiatives and gave me the resources and support to carry them forward. It taught me that if you take initiative and combine it with your passion, you can make anything happen."
Being very active in experiences inside and outside the classroom inspired Kiran to achieve incredible heights in her career professionally. When asked what is her proudest achievement personally or professionally, she describes "providing training, teaching, and consultation for an entire Public Health Branch through my role and being able to deliver that with passion and dedication for our clients and the community."