Category:  
Commerce grad consulting in Qatar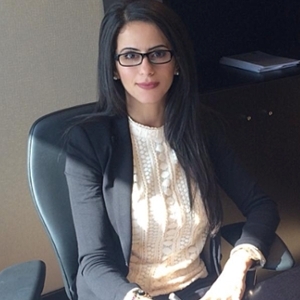 Rana Bakroun | Class of 2014
Bachelor of Commerce, Finance
Although she has only just begun her career, Rana has already taken on several high profile projects as a Business Analyst in the consulting division of Deloitte Middle East in Qatar.
At the University of Ontario Institute of Technology (UOIT), Rana was an active member of several clubs and held the role of a Vice President on the UOIT's Finance Society, The Islamic Relief and The Human Rights Watch. In her final year at UOIT, Rana secured an internship with Deloitte's consulting division in Qatar.
Although she started as an intern, her eagerness to learn and contribute allowed her to take on a diverse range of projects, landing her a full-time position upon graduation. The main project Rana has been involved in was the establishment of a Food Safety Authority in Qatar, where she contributed in a number of tasks to meet project goals.
She credits Deloitte with providing a rich learning environment allowing individuals such as herself to grow and reach their highest potential. She believes the best part of her experience to be the high level of involvement on the projects she has been assigned to and the opportunity to work closely with clients.
To be successful in the field of consulting, Rana has learned research and analysis skills, along with writing and communication skills. She finds the nature of the work is more of an art where it is necessary to look at a situation from different perspectives and find an appropriate approach to the problem at hand.
Although Qatar is far from home, she hasn't had any trouble adjusting to the lifestyle. She has also discovered the workforce to be very diverse and rich in culture as well as nationalities. Having had the opportunity to build a strongly diverse network with individuals from various backgrounds, she feels she is continuously growing and making a difference while developing strong relationships.