Category:  
Graduate's passion for learning with tech fostered at the university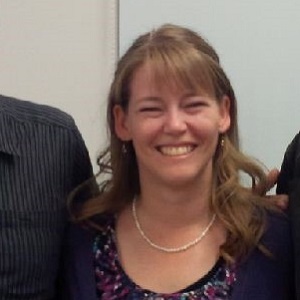 Cindy Campbell | Class of 2013
Masters of Education, Digital Technology


A sea of black turtleneck sweaters appearing on multiple student webcams stands out for Cindy as one of her heartwarming memories of her graduate studies.
She and her classmates decided to imitate one of their professors, known for his fondness for wearing black turtlenecks, by donning similar garb during one of his online classes. A bit of quirky fate intervened. "Of course, when we all logged in wearing our black turtlenecks, he appeared on screen wearing a white one. He got the joke and we all enjoyed a good laugh. Even though we weren't meeting in person, that's just one example of the kind of camaraderie we developed."
Cindy was initially attracted to the university because of the it's emphasis on technology. Being able to use Adobe Connect to take part in a digital classroom really appealed to her too. Once enrolled, she quickly discovered that she profited from learning new ways to communicate and collaborate, alongside professors who were "knowledgeable and supportive."
Cindy has been working as an elementary school teacher with the Durham District School Board for 17 years. She likes the creativity that teaching offers and enjoys the relationships she develops with students as they learn together over the course of the academic year.
Cindy sees the integration of technology into every aspect of the classroom experience as an intriguing trend. This, along with student-centred learning, "make elementary school teaching an interesting and exciting place to be."