Category:  
First Pi Day of Giving was a great success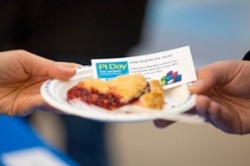 Thank you to everyone who supported our first Pi Day of Giving on Wednesday, March 14!
Since opening our doors, nearly 15 years ago, we have quickly grown to be one of Canada's most innovative, STEM-intensive post-secondary institutions.
That's why we chose March 14, 2018 for our day of giving.
The campus was electric with Pi Day excitement across all buildings at the north and downtown locations. Faculties got a little slice of the action with activities near their pie stations, such as the estimating Pi demonstration from the Physics Department, Faculty of Science and the Faculty of Business and Information Technology's pie in the face.
Alumni also got involved in the fun through regional pie party celebrations at OPG in Pickering and the Life of Pie Café in Ottawa, the Alumni Association Council hosted a fun night out at the Marlies game, and many of your fellow alumni took to their social media channels to help spread the word.
Alumni, faculty, staff and members of the community came together and raised more than $23,000 for student scholarships.  We also created a lot of buzz on the university's Facebook, Instagram and Twitter feeds. 
Check out President Steven Murphy's thank you message and our photo gallery from this year's events.
Mark your calendar now for next year's Pi Day of Giving -  Thursday March 14, 2019. Together, we can grow our circle and make a huge difference for current students and our university.