Category:  
The sweet taste of success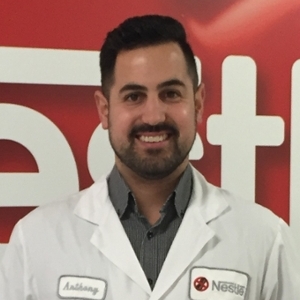 Anthony Di Mambro | Class of 2012
Bachelor of Commerce (Honours), Organizational Behaviour and Human Resources Management
Life is sweet for Anthony Di Mambro.
The Organizational Behaviour and Human Resources Management graduate currently works for Nestle Canada Inc., the producer of many of Canada's favourite chocolate treats. As their Training Specialist, Anthony is responsible for the overall planning, development and execution of all on-site compliance training programs for over 450 employees.
A self-proclaimed people person, Anthony chose his major as the core of human resources is the management of people. He remembers being captivated by the introductory courses in his second year and seeing parallels in his own thinking. He credits the program for preparing him for a career by helping to develop strong foundational skills within business, such as critical thinking and ethics, but also for the technical knowledge, skills and abilities within the functional area of human resources that impact his day-to-day operations within a unionized industry.
For Anthony, what makes UOIT stand out as a top choice is how technologically advanced it is.  "All the facilities are new and modern, you have access to the most current and up-to-date computers, software, and programs, and even faculty and staff," he said. "You aren't lost in traditions, instead you have the opportunity and power to create your own."
With that power, he helped found the Human Resources Association and was the Chief Recruiting Officer and Student Liaison for Finance.  He also participated in a Capstone project where he worked with the CEO of the Whitby Chamber of Commerce, developing ways to attract, retain and sustain small business within the Town of Whitby.
Overall, Anthony remembers the small and intimate classrooms from his final years, which promoted a culture of trust and comradery between all students, professors and teaching assistants. "Our professors were open and shared knowledge, contacts and experiences that stick with me to this day. I do not believe you would get that level of candidness anywhere else."