Category:  
Health Science grad pursues her dream career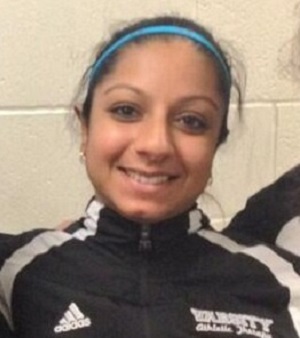 Jessica Pragg | Class of 2012
Bachelor of Health Sciences in Kinesiology

Sports and physical activity have been big parts of Jessica's life since she was a child. Now, she is a Certified Athletic Therapist and pursuing the career of her dreams.
While attending the Fitness and Health Program at Durham College (DC), Jessica took a course in Sports Injury Management, which sparked her interest in the field. During her last year of college she did a placement in the University of Ontario Institute of Technology (UOIT)/DC Varsity Athletic Therapy Clinic. She enjoyed the experience so much that she decided to continue her studies through a bridging program with UOIT.
As a student in the university's Faculty of Health Sciences, Jessica particularly enjoyed her internship with Athletic Therapy, working as a student trainer and completing her fourth-year practicum with Dr. Kevin Power. He helped her take softball, an activity she loved, and apply it to her studies. The university also helped her strengthen her time-management skills as she learned to balance classes, homework, practices and games (home and away), while also allowing time to study.
After graduating from UOIT, she was accepted into the Advanced Standing Program of Athletic Therapy at York University in Toronto, Ontario. She has completed the national exam and is now a Certified Athletic Therapist. Excited to have finally reached where she wants to be in her chosen field – after seven years of school – she's looking forward to finding a position that provides both field and clinic work.
Even though it's been a long road, Jessica believes following her passion and her dream will all soon be worth the effort.