Category:  
Exercise as medicine in physiotherapy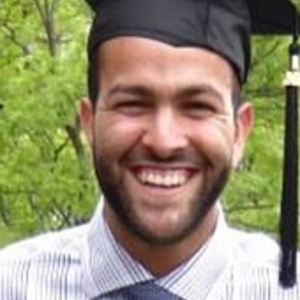 Joseph Guirguis | Class of 2014
Bachelor of Health Sciences (Honours), Kinesiology


While studying for a degree in Kinesiology at the University of Ontario Institute of Technology, Joseph became increasingly intrigued with the idea of "exercise as medicine." This intrigue, combined with his passion for working with, and helping people led him to pursue a career in physiotherapy. Joseph is currently enrolled in the Masters of Science in Physical Therapy program at the University of Toronto, which he expects to complete in August 2016.
"At UOIT, I learned that health had to be approached from a biological, psychological and social perspective. Not looking at one's health mechanistically, but rather holistically," says Joseph. "I also strongly believe in exercise as medicine and am persuaded by the plethora of research showing positive outcomes as a result of exercise interventions in a wide variety of populations."
He says the university prepared him well to work in healthcare. His professors, Joseph says, "were incredibly competent in their fields, yet also very approachable. UOIT also provided practical classes that familiarized me with a lot of equipment used in my field. The internships provided experiences that gave me a good idea of what I was going into." He also says the university gave him opportunities to teach and do research.
In fact, his dream for the future is to not only work in the front lines of physiotherapy as a clinician, but also to be involved in teaching the next generation of clinicians. Joseph is pleased to see a growing trend for exercise to be used as a form of medicine. "There is overwhelming evidence and literature supporting the idea of treating chronic illness as well as many other types of ailments and diseases with exercise."
He urges undergraduates to "take advantage of the amazing opportunities in employment and research opportunities, the rich academic environment and extracurricular activities at the university. I am extremely thankful for the experience and relationships I made at UOIT, and would not be where I am now if it had not been for the selfless faculty, the helpful administration, and the like-minded peers."