Category:  
Wear your university pride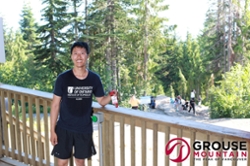 Our university community has grown significantly over the years, and I am proud that amongst this growth and change our ability to stay connected remains strong. In 2016, I travelled to Vancouver to complete the Grouse Grind challenge. During my visit, I was approached by a local who noticed my University of Ontario Institute of Technology alumni t-shirt. "Are you from Oshawa?" he asked. "Did you go to UOIT?" Almost 3,000 miles away from home and I still found a UOIT connection. I learned that my new acquaintance was a fellow alumnus who found employment in Vancouver. As I continued my challenge that day I received additional comments on my attire and questions about our young university.
As UOIT nears its 15-year anniversary of when it welcomed its first students, consider buying some swag and showing your school pride wherever you go!  In addition to t-shirts, we offer hoodies great for workouts or everyday chores like grocery shopping.  If you want to stay warm during fall and winter seasons, try out our comfy blankets too.  For the budget conscious, we currently offer t-shirt and hoodie bundles at affordable prices.  Check out our online store or come to our upcoming alumni events and get your UOIT memorabilia.  And if you are looking for something we currently don't have, please contact alumni@uoit.ca. We welcome your suggestions.
Angelo Pineda
Game Development, Class of 2010
Vice-Chair, Alumni Association Council