Category:  
Staying open to new paths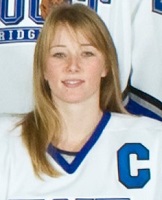 Megan Legge | Class of 2011 | Faculty of Social Science and Humanities 
From the moment Megan Legge (née Friel) laced up her skates she knew she loved being on the ice. As the youngest of four girls, Megan dabbled in figure skating before swapping spins for a stick and puck and followed in her big sisters' footsteps. "All of my sisters played hockey and my Dad noticed how well I was doing on the ice so asked if I wanted to give it a shot," says Megan. She soon earned a spot on the Durham West Rep Hockey team and her days of double axles were left behind. "I found that playing a team sport was a lot more enjoyable compared to being a single figure skater," says Megan.
Born and raised in Pickering, Ontario, Megan knew she wanted to stay close to home when heading off to post-secondary. After completing a year at Durham College, Megan went on to study Criminology and Justice Studies at Ontario Tech. As luck would have it, a former teammate spotted her on campus and suggested Ontario Tech Athletic Director, Scott Barker invite her to join the then joint DC-UOIT hockey team.
"Our team played both college and university teams. With any new team it was tough losing consecutive games so it was a growing pain that took some time getting used to for sure!"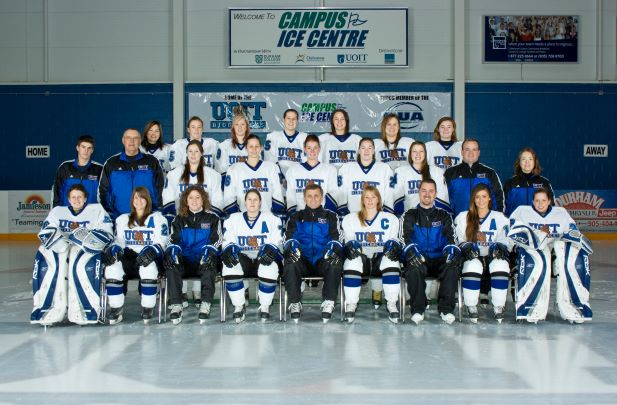 Megan went on to lead the team for the four years she was at Ontario Tech.
"Being named Captain of the Ridgebacks was definitely an honor and the highlight of my university experience," says Megan.
Megan and the team soon found their stride and she was named the Top Defensive Player at the Women's Hockey Team Awards for the 2008-09 season.
After graduating in 2011, Megan started her career with the Ministry of Children, Community and Social Services in the youth probation office and then later with the John Howard Society in Oshawa working with at-risk youth. 
In 2014, Megan and her husband, TJ, who is also an Ontario Tech grad and former Ridgeback, made the move back to TJ's hometown of Chapleau, Ontario. She landed a job at the Ministry of Natural Resources and Forestry as a Senior Lands and Waters Technical Specialist, where she administers Crown Land for Resource development and public use.  It may not have been a direct career path but Megan believes grads shouldn't limit their job search to just their area of study. "Branch out and don't be held down by just what your degree says because there are so many different jobs out there that translate," advises Megan.  
Megan hasn't completely left the hockey world behind. She assists the Chapleau Chicks hockey team and imparts the wisdom she's gleaned from her Ridgeback coaches while mentoring her young athletes.
"I had a fairly open line of communication with my coaches. I want my team to know they can come to me if they have any issues and bounce ideas off me. I also like to explain why we're doing certain drills so they can understand the importance of each one. Like my coaches, I prefer to talk to them and not talk at them."
Megan is the Mother of four boys, four and half year-old Gavin, who just started playing Timbit hockey with the Chapleau Huskies, three year-old Hudsen and 10 month old twins, Greyson and Hayden. When they're not at the rink, Megan and her family enjoy fishing and spending weekends at the cottage.