Category:  
Alumna joins Canadian Olympic Committee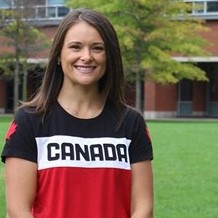 Shannon Galea | Class of 2011
Bachelor of Education in Science
Faculty of Education 
Shannon Galea, Ridgebacks alumna, has recently been hired by the Canadian Olympic Committee as their Game Plan specialist. The UOIT Ridgebacks proudly congratulated Shannon on their website and social media last Fall.
Shannon has an extremely diverse background in sport, education, research and marketing as a former high performance athlete herself. As a former softball athlete for 25 years, she competed and coached professionally in 6 international federations: Netherlands, Italy, Malta, Belgium, Australia and New Zealand. Within these federations she was in charge of development, coaching amateur athletes and collaborating with state/national level associations for a successful development pathways and managed to further pursue her career as a physical educator in various education systems around the world. Fortunately, as a duo-citizen to Malta, she worked avidly as a builder of sport through formalized development strategies for local sport organizations within Malta and took part in the European Commission's "Be Active" campaign to promote healthy active living across European communities.
In Canada, she has won several national titles and awards with distinction from her National Sport Federation and Softball Ontario. She is proud to be giving back to her sport by continuously working closely with developing junior elite athletes across Ontario through pitching clinics. However, Shannon was fortunate to build her athletic career and scholastic achievements from a multi-sport focus within the Ontario University of Athletics (OUA) and U Sports (formally the Canadian Interuniversity Sport) as well as the Ontario College Athletics Association
While completing her Bachelor of Education at UOIT she was a member of both Squash and Rowing teams and captured the university's first OUA gold medal with her crew. Her distinguished achievements within the OUA lead to being awarded the "Woman of Influence." Before competing overseas, she finished her scholastic playing career with her team taking the OCAA title while completing her diploma in Sport Business Management at Durham College.
Recently, she attended the 2018 Paralympic Games in South Korea in a dual role helping as the Canadian Paralympic Committee's Canada House operations as well as a Sport Photographer/ Social Media Content Publisher for Mpower Sports and Recreation to share the power of sport through athlete's stories by engaging media awareness of para sport. This role provided her expertise in curriculum development in sharing the Paralympic and Olympic Movement through education in the classroom. She has many talents and passions and also was able to compose music for videos and content covered for the Games. Finally, her experiences related to the Games stems from her Sport Coordinator role for the 2015 Toronto Pan Am/Parapan Am Games Committee. Lastly, she has teamed up with Amped2Play, who have created play activations internationally as well as collaborated with the Agitos Foundation for improved para sport engagement.
As Game Plan Specialist, Shannon helps athletes find their passions beyond the field of play as well- rounded individuals. 
On her spare time, as a world traveler, she enjoys landscape photography, is an avid hiker/outdoors enthusiast and loves to play the ukulele and composing music in her home-based studio.