Category:  
Introducing... Our New Logo
Communicating what we are and what we strive to be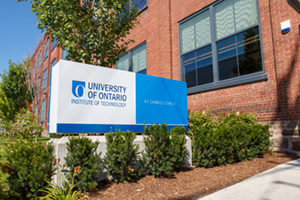 Have you visited the Campus Recreation and Wellness Centre (CRWC) lately? If so, you'll have seen some big changes. Thanks to the CRWC's Activities and Innovations Committee, the main gym has had a refreshing facelift. There's a large new banner above the bleachers and colourful murals on the walls representing both the Ontario Tech University (Ontario Tech) and Durham College. As well, you can see a new Ontario Tech logo featured prominently on the north wall.
This logo change is linked to a renewed focus on showcasing Ontario Tech's name. The reason? Recent market research reveals a lack of name recognition for the university. The logo colours have also been updated to bring them in line with the Accessibility for Ontarians with Disabilities Act. Faculty colours have also been adjusted for compliance with the act.
The logo represents the university's distinctive personality, expressing the best qualities of what it is now and what it strives to be in the future. An important legacy of the past remains: Ontario Tech has adopted a version of last year's 10th-anniversary logo for permanent use. The tagline Challenge, Innovate, Connect also continues to be part of the brand. 
You'll see the logo appearing on all new materials produced by Ontario Tech. Much of the campus signage and the university's website have already transitioned to the updated identity. For example, there are new wooden signs at the entrance to the north Oshawa location, as well as several new banners at both the north and downtown Oshawa locations.
The updated logo signifies the continuing evolution of the university – another reason for you to come on home for Ontario Tech Homecoming 2014. Not only can you catch up with your old alumni pals, but you can see all of the other exciting changes taking place on campus. It's all here on Friday, September 26 and Saturday, September 27.