Category:  
Driven to Succeed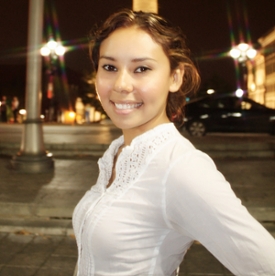 Samantha Hazell
Class of 2011
Bachelor of Engineering, Electrical Engineering
Samantha believes her career is proof of the amazing results that academic and industry partnerships can have for students, schools and businesses.
She began her post-secondary education studying business, but transferred to UOIT after her second year to focus on Electrical Engineering. With family and friends already attending the university, she was impressed by its high-calibre faculty, technology-enriched learning environment and small class sizes.
In addition to her coursework, Samantha became involved in the Women in Engineering (WiE) program and served as a Natural Sciences and Engineering Research Council of Canada (NSERC) research assistant, working on the development of a system for object detection in autonomously controlled vehicles. She cites her experience here as the foundation for her personal and professional development, and the source of some of her proudest accomplishments.
One was her Capstone project where she worked with three other students to create a portable heart monitoring system. It was designed to assist doctors in developed countries to diagnose and care for patients in third-world nations using wireless and Bluetooth technologies to transfer and analyze important data. "It is the most rewarding piece of engineering I have worked on to date," she said. The project garnered a lot of interest from businesses looking to partner and patent their product.
During her time at the university, she was also involved with the EcoCAR team where she gained technical knowledge and experience with hybrid vehicles. The project also earned her a job with General Motors, the project sponsor, before she had even graduated. "It was nice to not have to worry about finding a job. I could just focus on school and research," she said. "It's hard enough being a female engineer in the automotive field, so it took a lot of the pressure off."
One year later, Samantha moved on to Toyota Motor Manufacturing Canada where she has progressed from production control to business planning in just four short years. She believes her technical knowledge and motivation have helped her achieve success in such a short period of time. In her current role, Samantha drives corporate strategy in areas such as collaborative research and environmental sustainability.
But Toyota isn't the end of the road for Samantha. She is currently pursuing a Master of Business Administration focusing on strategic management and analytics, and would eventually like to obtain her master's and PhD in engineering. And of course, she would love to return to the university. "I've talked with faculty members about coming back," she said. "I would love to do greater research in sustainable energy."
In addition to her work, Samantha volunteers her time for Engineers in the Classroom, presenting STEM-focused career options to elementary school students. "The best part is asking the class who is interested in becoming an engineer and counting the number of female students who raise their hands.
"It's important for women in engineering to be confident in themselves and their abilities," said Samantha. "We have come a long way, but we still have a long way to go."