Category:  
Dancing her way to success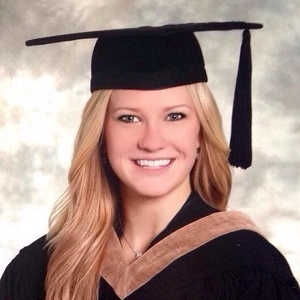 Alissa Kuksis | Class of 2015
Bachelor of Commerce 
If you ask Alissa Kuksis what advice she would give to fellow alumni, whether early in their career or looking for something new after working, it would be to follow your passion and network, network, network!
The Finance grad saw the results and success of hard work, not only during her studies, but also through her continued focus and passion for dance. In fact, her skills in dancing and leadership allowed her to lead the varsity dance program through its greatest year.
"Being the head coach of a varsity team was definitely no piece of cake, especially when you're in your fourth year of university," said Alissa.  "So I was definitely proud of myself for completing the year with a great team and achieving academic success."
In fact, one heartfelt memory from UOIT is dancing at her final showcase as a Ridgeback. After the show, members of the faculty, as well as students, came to congratulate her on her success as a student athlete. Today, Alissa is still the head coach of the varsity dance program.
"Being involved in the Ridgebacks community has made me feel like I have a second home," she said. "Knowing how much it enriched my university experience, I want more than anything to see the program continue."
So what is Alissa's dream for the future? Well, it includes dance, of course, but so much more. She wants to expand her knowledge in the finance industry, take additional courses such as a CFA and perhaps complete an MBA.
The experience and knowledge gained at UOIT helped Alissa immensely. "UOIT gives you the knowledge to succeed in your industry, now all of you need is a foot in the door," she said. "Just use your connections and go from there."