Category:  
A challenge by her brother launched her career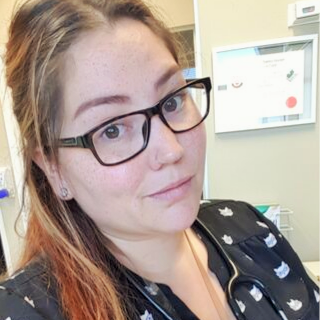 Megan Kobzick | Class of 2015
Bachelor of Science in Nursing
Faculty of Health Sciences
A challenge by her brother launched Megan on the career she loves. 
She'd been accepted into a university Fashion Design program when he told Megan that nursing would be too difficult for her. Megan took that as a challenge!  
She started Ontario Tech University's Bachelor of Science in Nursing program in 2011 – and found her calling. During her four years of undergraduate study, Megan particularly enjoyed the variety the program offered. She had a range of placements and experiences with numerous specialties – "I was able to see the broad range of fields in which Nurses work."
 As a student nurse Megan worked at Lakeridge Health, Ontario Shores Centre for Mental Health, and Oshawa Community Health Centre. She also participated in the Aboriginal Student Circle on campus was a Student Assistant at the Ontario Tech University Baagwating Indigenous Student Centre. 
Recognized with a donor award in 2012 for her contributions, Megan appreciatively commented: "Receiving this award as a contributor to the Aboriginal Resource Center and participant in its initiatives makes me feel a valued member of Ontario Tech University. And representing my heritage makes me feel strong and proud to be of First Nations descent." 
Following graduation in 2015, Megan wrote the NCLEX-RN exam and proudly became a Registered Nurse. She moved to Thunder Bay to work as a Community Health Nurse for Dilico Anishinabek Family Care. Continuing her education, Megan successfully completed the Canadian Diabetes Educator's Certification Board exam to become a Certified Diabetes Educator (CDE). She subsequently worked for Dilico as a CDE. 
Returning to Oshawa in 2018, Megan joined the Canadian Mental Health Association Durham. As an Outreach RN, she was part of the team providing services to the residents of Durham Region. The following year, Megan joined Lakeridge Health as a CDE. In September 2019 she moved to Anishnawbe Health Toronto where she is a Certified Diabetes Educator.   
Megan is excited to be "working with an indigenous organization close to home" – a rewarding job that resulted from a long-ago challenge!