Category:  
Building strong communities through volunteering
Volunteers are the roots of strong communities and Dan Gazarek is doing his part to strengthen communities across Durham Region.
From his time spent coaching high school football to his participation on the university's Alumni Association Council (AAC), Dan believes in the importance of giving back.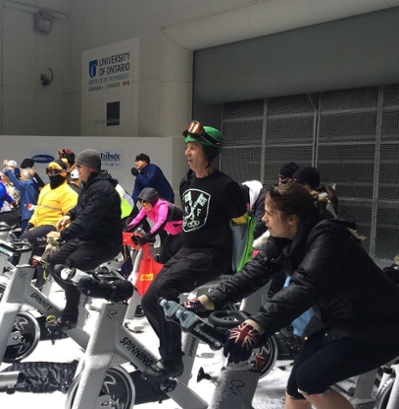 "I believe in leadership through action," Dan said. "I was a part of the university in its early years, so joining the AAC was really important to me. I knew I could give back and make a difference. I really enjoyed contributing to its growth and success."
Even in his day job, the Commerce grad is making his mark. In 2011, he founded Kingdom Force Sports, a sports training academy located in Ajax focused on developing players who are champions on the field and in the community.
He demonstrated that commitment to community by rallying a team to participate in the Ontario Shores Extreme Challenge.  The four-hour spinning journey through snow, wind, rain and every possible weather condition imaginable was recently held in ACE's Climatic Wind Tunnel, raising over $30,000.
The event also helped raise awareness to reduce stigma around mental health issues within our community. "It was really a win-win for everyone," said Dan. "The university engaged the community and the community supported a great cause. Plus, I got to see the inside of ACE for the first time!"
From April 10 to 16, the University of Ontario Institute of Technology celebrates its volunteers during National Volunteer Week. We want to acknowledge the incredible efforts of volunteers across the university community and say thank you for your support.