Category:  
Call for nominations for the Alumni Association Awards!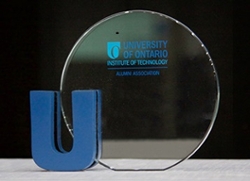 Each year the Alumni Association Council recognizes and celebrates outstanding alumni with our Alumni Association Awards - the Achievement Award, the Up and Coming Award, and the Philanthropic Award.
Awards are presented to UOIT alumni who best exemplify the values of the university and who are making a difference in their careers and communities.
Nominate an outstanding alumnus or alumna today.  Visit the alumni website to submit a name, read the award descriptions, and learn more about the nomination process.
Nominations are due by 10 a.m. (EDT) on Monday, June 11, 2018.
Recipients will receive their awards at the Alumni Association Council Annual General Meeting.
Good luck to the nominees!
Kait Gambier
Commerce, Class of 2013
Chair, Alumni Association Council