Category:  
Alumnus publishes book about experiences as a refugee from Africa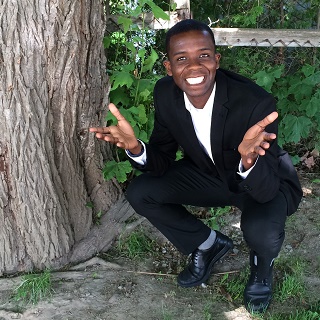 Jean Nsanzeryaka | Class of 2016
Bachelor of Science, Biological Science
"I have learned that things can happen in life that you never thought possible," says Jean.
Currently working as a teaching assistant at the university and as a private tutor, as well as helping children in Malawi continue their education, Jean looks back with wonderment on the past few years.
Born in Burundi, soon after his birth, Jean's family fled the African country, which was afflicted with internal conflict. They lived in a series of refugee camps for years. Sadly, Jean's mother died in 2004. Still, Jean managed to maintain good grades in high school and, in 2012, he was accepted into the World University Services of Canada – UOIT/Durham College Student Refugee Program, which helps refugees gain access to education.
"The university and the Student Association chose me as their first sponsored student," says Jean. "This changed my life."
Living on campus was a huge transition for Jean, especially when he had no knowledge of computers and he was studying at a university where technology is integrated throughout learning. Fortunately, "everyone welcomed me and helped me to adjust to life here in Canada."
His professors, says Jean, "were amazing." "When I needed them to slow down for me, they did. They truly cared."
In turn, Jean embraced university life. He played intramural soccer, was a teaching assistant, a peer tutor with the Student Learning Centre and involved with student groups.
Today he has many friends at the university and works to help other children attend school. One day soon, he hopes to reunite with his family.
Among his life lessons, he has learned: "Do not be scared because of who you are or where you come from. Be yourself. You can do something in your own unique way. Your potential is needed by the world."
Jean has recently published a book about his life: You are my friend. It is available for purchase on Amazon.ca.
RELATED: Jean Nsanzeryaka reflects on how 'the impossible became possible' at UOIT