Category:  
Commerce grad helps the fight against COVID-19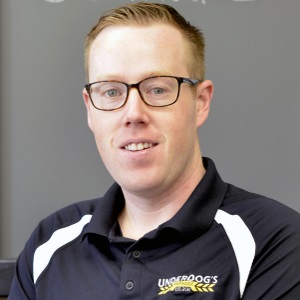 Jeff Dornan | Class of 2009 |Bachelor of Commerce 
Co-Owner of All or Nothing Brewhouse Pivots to Help the Fight Against COVID-19
Oshawa's All or Nothing Brewhouse switched production from beer to hand sanitizer at the first sign of shortage, as the COVID-19 virus began its spread in Ontario. The Brewhouse is now producing hand sanitizer exclusively for local hospitals, front-line emergency workers and major utility companies 'to ensure they have the tools they need to help flatten the curve of COVID-19' states Jeff Dornan, co-owner.
Jeff graduated from Ontario Tech with a Bachelor of Commerce in the class of 2009. He launched the Brewhouse in 2014 with his brother Eric. They acquired a commercial distilling tank a few years ago with the plan to produce spirits one day.
When WHO announced COVID-19 as a pandemic and released a recipe for hand sanitizer, Jeff's entrepreneurial drive kicked in and knew what his next project would be. 'We have a still with a huge 4,000 litre capacity and we can do this! We have all of the production equipment, testing tools and packaging line…we HAVE to do this!, he exclaimed.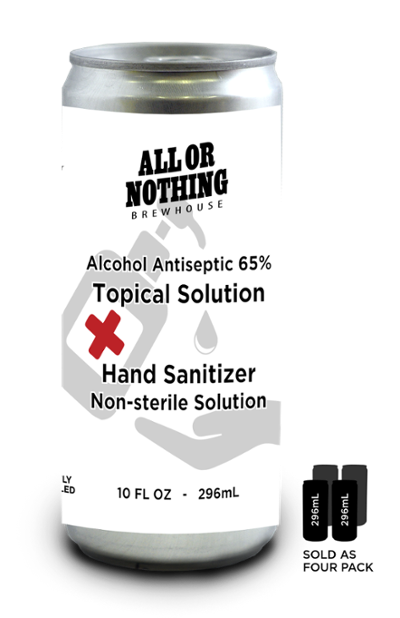 A few weeks ago, All or Nothing Brewhouse sent out an urgent plea to local trades and businesses to help recommission the company's distillery equipment to produce hand sanitizer. Jeff says it was a "chaotic rush" to get the distillery equipment up and running so quickly, and to find the necessary raw ingredients to make it. The goal was to move to a 24-hour production of hand sanitizer – a pace they've kept up with, ever since.
Jeff shouts out thanks to all those companies that helped to meet the demand in Durham; Woodham's Combustion, Durham Labels, LIT Electrical, Chemstation, Brew Culture, Oshawa PUC and the Greater Oshawa Chamber of Commerce.
'The response has been overwhelmingly positive…it has been very humbling actually,' says Jeff. "We've heard appreciation from so many people; construction workers, nurses and other front line healthcare workers, elderly folks, train conductors, delivery companies. The need is great and we are honoured to be able to do what we can, to help keep people in our community protected from this virus".
When asked what advice he has for Ontario Tech grads venturing out into the world as entrepreneurs, Jeff stated, 'You will have daily challenges you'll need to fix. Keep looking for different ways to reach your end goal, like there's no tomorrow! And remember…you must give it your all or its nothing at all!'
This May will mark the one year anniversary of the grand opening of the Dornan brothers' craft brewery and distillery on Ritson Rd., in Oshawa, and they have some great summer  events planned, to celebrate this milestone. When this health crisis is over and we're able to reopen, we are really looking forward to sharing a beer with folks on our patio,' Jeff says. '…and we can't wait to see everyone again!'