Category:  
Filling in the blanks: The StAMP experience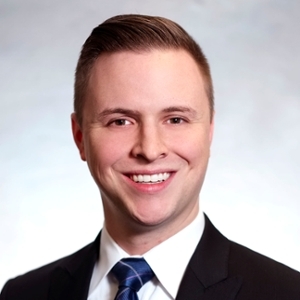 Mentor
Jason Langley
Bachelor of Commerce, class of 2011
Position: Branch Manager at BMO -Flagship Branch (King and Bay)
Queen's MBA, class of 2014
When the Student-Alumni Mentorship Program (StAMP) was launched in 2014, it started as a pilot project only open to students and alumni from the Faculty of Business and Information Technology. Nearly two years later, the program is slowly taking shape as its own faculty-wide mentorship. We had a chance to chat with alumnus Jason Langley to find out more about his experience as a StAMP mentor.
1. Why were you interested in becoming an alumni mentor?
Quite simply, I saw an opportunity to give back. Students often have a number of unanswered questions and are still developing soft skills that are extremely relevant in today's workplace such as inter-personal relationship management, how to present yourself, how to network, how to identify personal gaps, personal brand, etc. I wanted to help answer the same questions I had as a student and it's always helpful for students to gain insight from an impartial third party who has been there, and knows what they're going through.
 2. Describe your mentoring experience.
The program is fairly simple and it's easy for mentors and mentees to connect. Our first interaction was more of a meet and greet; an opportunity to get to know each other and judge whether or not it was the right fit. My mentee and I connected over the phone bi-weekly for a period of about three to four months and are still in touch.
Some of the questions that came up were:
What was your career path?
What did you do to accelerate your career?
What impact has that had on your work or career and how has your career progressed – earnings potential?
How do I chose a program or know I'm in the right stream?
Should I do an MBA or pursue a professional designation?
The main challenge is setting expectations as both parties aren't sure what to expect. The key is to set goals and to determine what the mentee wants to get out of the mentorship.
3. What makes a mentee/mentor the right fit?
It all comes down to the personalities involved and the motivations of each party. Both the mentee and mentor need to be committed to the process and generally click from the start. Lastly, it's important that the mentor can add value for the mentee. Be honest with each other about what you're looking for, agree on the terms, and stick to it.
4. In your opinion, what makes a good mentor?
A great mentor is passionate about developing others and challenges their mentee to achieve more.  It's important to be a good listener and provide candid feedback. Ideally the mentor would also have experience related to the mentee's field of study or in an area that the mentee is looking to develop.
5. Would you encourage a fellow alum to be a mentor? Why or why not?
Yes. I encourage everyone to consider becoming a mentor as you can help to fill in the blanks for a mentee by answering questions and providing guidance when students or recent grads need it most. Before signing up, I would suggest considering the time commitment. My mentoring relationship required multiple touch points along the way.
I think the most valuable thing an alum can provide a mentee is candid feedback. Mentoring provides a safe environment to provide input that can help identify and lever a mentee's strengths while also helping them to embrace their weaknesses. Similarly, the mentor gains invaluable coaching and relationship management and leadership skills.