Category:  
Pi Day of Giving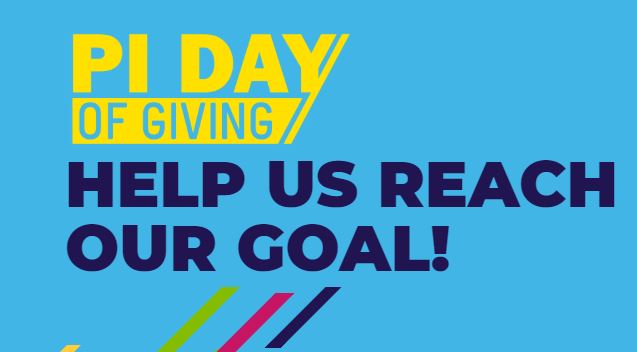 Calling all Alumni! Support our second annual Pi Day of Giving on Thursday, March 14th, 2019!

Ontario Tech has grown to be one of Canada's most innovative, STEM-intensive post-secondary institutions. We are celebrating this achievement on March 14 - Pi Day!

Pi is a significant number in STEM education as it is a numerical constant that represents the ratio of a circle's circumference to its diameter. No matter the size of the circle, the value of pi is the same. Pi is an infinite number which represents the endless possibilities for our students. STEM stands for science, technology, engineering and mathematics. 
On Pi Day, we're looking to grow our circle by inviting alumni, students, faculty, staff and members of our community to take part in a day of giving. On March 14th get active on social media: let's get #uoitpiday trending! Tweet what you love about the university, Instagram your favourite place on campus (Bonus if this picture includes pie!) and share on Facebook and LinkedIn why the university means so much to you!
Feeling philanthropic?  As ambassadors of the university, we encourage you to share a slice of your pie on March 14 by giving back through an online donation that will directly support the Student Success Fund and you can support a faculty of your choice. 
 We also hope you will join the celebrations in person at our Free Community Movie Night on March 12, 2019. 
---
Free
 

Community Movie Night! | March 12, 2019

Everyone is welcome to come and see the Academy-Award nominated, animated movie, Ralph Breaks the Internet. In the sequel to the 2012 film, Wreck-It Ralph, about an arcade game villain who wants a role reversal, Ralph Breaks the Internet levels up on its predecessor with a funny, heartwarming film that expands its colourful universe while focusing on core characters and relationships.

This event is open to the public, bring your friends and family and join our Alumni Association Council as we celebrate Pi Day with a FREE community event. Free popcorn and refreshments.
Event Details
Tuesday, March 12, 2019 - doors open at 5:45 p.m., movie begins at 6:30 p.m. 
Regent Theatre - 50 King St. E., Oshawa, ON L1H 1B3
Next Steps
No ticket required; general seating. 
---