Category:  
FSSH Alumna Working Toward Something Great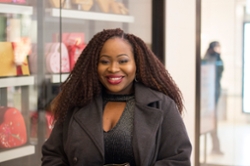 Sandra Edobor | Class of 2017
Bachelor of Arts, Legal Studies, minor in Forensic Psychology
Faculty of Social Sciences & Humanities
"You're only as weak as you think you are, you're only as strong as you choose to be." Sandra says this quote reflects her UOIT experience. After doubting that "I had it in me" to make it through university, Sandra says "walking down the stage at graduation with all my friends and family to support me was the BEST feeling ever!"
Sandra's sights are set on becoming a lawyer. Meanwhile, she's enjoying her role as a Legal and Notarial Assistant at Oshawa – Whitby Notary Public, especially building special relationships with clients.
Encouraged by her parents to study in a field that would quickly secure her a job after graduation, Sandra applied to the Legal Admin/Law Clerk program at Durham College. "Ever since, I've loved everything regarding law!"
When she started the Legal Studies program at UOIT in 2014, Sandra was determined to get involved in campus life. So she took on the ambitious role of President of the African Students' Association. "Although it was very stressful, I can proudly say it was the highlight of my time at UOIT. It helped me improve my leadership, communication and organization skills."
She adds, "I'm grateful to UOIT for giving students the opportunity to create clubs and societies because, alongside my academics, they have greatly contributed to my success."
Sandra will be going back to university at some point as she moves closer to her goal of becoming a lawyer. But first she wants to gain more work experience. She's also working on projects to help communities in the GTA and Nigeria. Sandra forecasts: "Be on the lookout for something great!"