Category:  
Making a difference in the lives of patients and their families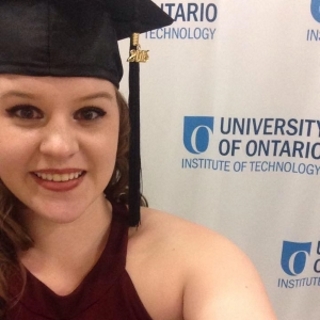 Devin Walker | Class of 2015
Bachelor of Science (Honours), Nursing
Devin Walker always knew she wanted to work in the health field but couldn't choose between sports medicine and physiotherapy. It wasn't until members in her family fell ill and she saw the wonderful interaction between the nurses and her family that she made up her mind to become one.
Today the Nursing graduate is working in the Complex Continuing Care Unit at Lakeridge Health Bowmanville as a Registered Nurse, receiving her offer of employment just one month after graduation.

Devin credits her experiences at the university for preparing her for her current career. "Providing a placement early in my nursing program gave me a sense of what I would really be doing once I graduated," she said. "It gave me a chance to learn about the different areas of nursing, including mental health, pediatrics, and surgery, and these placements helped me realize my goal of making a difference in people's lives was more than achievable through the incredible and unforgettable patient interactions I had."
Her drive and ambition are not limited to a just career as a Registered Nurse. She believes that the medical profession is always changing, giving her an opportunity to commit to lifelong learning. "One day is never the same as the next, which keeps my skills sharp and my knowledge fresh," she said. "I plan to go back to school and work in the Neonatal intensive Care Unit (NICU)". 
Although Devin is very busy with her career, she still volunteers with the Canadian Blood Services and is an Alumni Champion, volunteering at the Ontario University Fair and the Winter Open House. She also stays connected with the university on Twitter, Facebook, and Instagram. When asked for final advice for those on the same career path, Devin says, "If there is something you're passionate about, run with it. Because they say, if you love your job you'll never work a day in your life."