Category:  
Benjamin Earle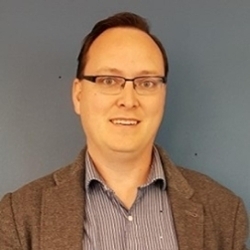 Benjamin Earle | Class of 2016
Master of Arts, Criminology
Passionate about building a community where everyone is able to grow and flourish, Benjamin is working hard in multiple ways to achieve this.
As Executive Director of Feed the Need in Durham, he helps to support 60 emergency food providers. This role also enables him to realize another objective: making good organizations work better. "I can merge my academic interests and professional goals to create good organizations that address pressing social and economic issues in our community."
Benjamin also operates his own consulting practice serving the not-for-profit sector in the areas of research, community development and program planning. As well, he is a partner of Think Big Today, a not-for-profit that provides entrepreneurial research and support service to youth in Durham.
He also volunteers as a board member for the non-profit Centre for Education and Training, which  provides employment and settlement services across the GTA and for the Foundation that provides oversight to the Bowmanville Camp 30/Jury Lands National Historic Site.
How did the university's criminology program support Benjamin's career plans? Already working with several faculty members on local community-based research projects, it made sense to him to attend a university supporting research, programs and services impacting the Durham Region. As for criminology, Benjamin was drawn to the field because "it allowed me to explore a broad range of issues that affect communities every day – from poverty, to crime, to food security."
Today, Benjamin is encouraged that a community investment model is increasingly seen to be necessary for a healthy future society. He believes there is also growing recognition that food security, environmental degradation and labour market change have common root causes, "and our best hope of addressing these is through increased collaboration."
Meanwhile, he intends to continue investing his time and skills in areas where he can make a difference for what matters most to him: his family and his community.