Category:  
Stay connected with Alumni Networks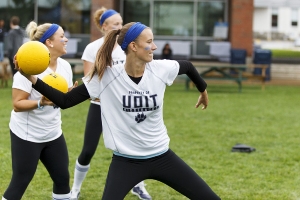 Alumni Networks allow you to come together with fellow alumni who share a common interest, whether it be your faculty, your program of study, any extra-curricular activities you enjoyed while at the university, or even where you currently live and work. Here's a little bit more about the two networks that you can take advantage of today.
Varsity Network for the die-hard Ridgebacks
Ontario Tech Ridgebacks Varsity Alumni Network is now up and running! If you had any involvement with any sport for any amount of time, you are welcome to join this group.
Posts include opportunities for Ridgebacks alumni to reconnect with their past teammates and connect with current teams and coaches. As a member of the network, you will learn when varsity teams are planning special alumni games and races, such as the events organized by the varsity rowing team or hockey team. Opportunities to support the current varsity teams will also be advertised as a way for varsity alumni to give back.
"As an alumnus, you have the opportunity to reconnect with something that had an impact on your life and reconnect with teammates and coaches," said Christie Attwood, the network coordinator and varsity rowing alumna. "It's also an opportunity to reconnect with the sport itself."
Ridgebacks alumni are free to post invitations to join local pick-up teams or house leagues and other relevant information. Content that encourages self-improvement, such as specialized training, is also encouraged.
Representatives from each sport are also being sought to help coordinate communications between the Athletic department and varsity alumni. If you are interested in being a champion for the sport you played or have any questions about joining the network, please contact Christie Attwood at 905.721.8668 ext. 6287 or christie.attwood@dc-ot.ca.
Networking made easy with the FBIT Alumni Network
Coordinated in partnership with the Faculty of Business and Information Technology (FBIT) and the Alumni Association, the FBIT Alumni Network is your go-to spot for faculty updates and announcements. Posts include updates on alumni success, student success, and any developments within the faculty itself. Stephen Rose, Associate Dean, stressed that "connections [made on the network] go both ways," meaning that not only does the faculty have a chance to share the news with alumni but they also have the opportunity to share with each other, creating a balance of communication.
Alumni who are interested in sharing news or achievements can either post directly to the page or contact Melissa Picard at 905.721.8668 ext. 6532 or melissa.picard@ontariotechu.ca.