Category:  
Making dreams come true with med lab technology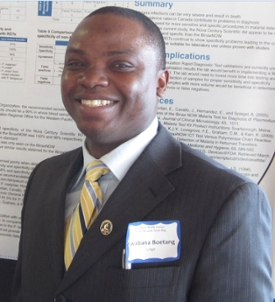 Kwabena Boateng
Class of 2009
Bachelor of Health Science
Kwabena developed a "lab affair" with medical laboratory technology as a young teenager living in Ghana. While visiting Korle-Bu Teaching Hospital to have blood work done for immigration purposes, he took a tour of the lab where he decided that one day he would be a medical laboratory technologist.
Today, Kwabena is living his dream and works for LifeLabs Medical Laboratory Services in Toronto as a Technical Quality Specialist. In this role he provides quality expertise to more than 3,000 employees across the province and prepares the company's specimen collection site for external accreditation. Prior to joining LifeLabs in 2017, he worked for seven years as a Medical Lab Technologist for the University Health Network in Toronto.
Concurrently, Kwabena has become a respected volunteer within the profession. He serves on the nomination committee of the Canadian Society of Medical Laboratory Science (CSMLS) and is a member of the editorial committee of the Ontario Society of Medical Technologists (OSMT), facilitating the exchange of news and insights.
Kwabena was drawn to the university "because of the uniqueness of the medical laboratory program and its light-years-ahead computer learning environment." He also established close friendships during his time there and even established the Med Lab Foundation to raise awareness of medical lab science with five of his colleagues. 
In 2008, he spent three weeks in Ghana volunteering at Korle-Bu Teaching Hospital, educating clinic staff about quality measures and best practices. Kwabena subsequently founded Health Science United Foundation (HSU Foundation), a non-profit that donates laboratory equipment and scholarships to the country's struggling hospitals, schools, and clinics. He hopes to raise enough funds to one day build and renovate laboratories there.
In 2016, Kwabena received a Master of Business Administration from the University of Fredericton. Keen to inspire future generations of medical scientists, he eagerly anticipates the next opportunity. Meanwhile, his work and two sons keep him very busy. His multifaceted "lab affair" continues – he enjoys pointing out how the initials of his sons' names spell "LAB."