Category:  
Passion for motorsports drives engineering grad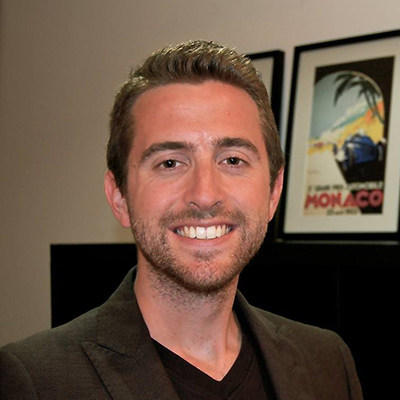 Cameron Mackey
Class of 2009
Bachelor of Mechanical Engineering and Management
For Cameron, Ontario Tech was a place of discovery. Here he learned, tried and figured out what he loved. Although he graduated with a degree in Mechanical Engineering and Management, he now works in software development, bringing a functional perspective to software and how it's applied in a variety of industries.
He's the founder of Laptimizer, an iPad app used to manage motorsport data. The app is used all over the world – as far away as New Zealand. He's also the Director of Engineering for Helix Enterprise Collaboration Systems, a software development company in Montreal, Quebec. He leads a team of project managers and business analysts focused on producing new world-class business and engineering-management software. During the summer he also works as a technical inspector at the Canadian Grand Prix in Montreal, interacting directly with the Formula One teams.
Growing up, it was a fascination with race cars and fighter jets that attracted Cameron to engineering. Deciding to attend Ontario Tech was a zero-hesitation decision. He felt the university was an exciting start-up enterprise with an inspiring vision and the bonus of new technology. He wanted to be part of the adventure and the team shaping Ontario Tech's future. He was also elated to have an opportunity to help build Ontario Tech Motorsports. Only two years later, the university's Formula Society of Automotive Engineers (SAE) team won the Formula SAE West, Rookie Team of the Year award in California.
"The experience was a real testament to the drive and quality of the students who choose to make Ontario Tech their home," he says.
Cameron thrived in Ontario Tech's environment of great professors, teaching assistants and facilities. "They are doing something new and fresh that no one else had ever done," he says. The university also helped open doors to new work and travel experiences. He worked with General Motors while attending Ontario Tech and then for Boeing Commercial Airplanes on the 787 Dreamliner program. He has also had experience working for small startups, including his own. His work has taken him across the United States, Europe, Asia and Australia. He even attended the Monaco Grand Prix and the 24 Hours of Le Mans to fuel his passion for motorsports.
"More than anything else, my experiences at Ontario Tech have proven that you can achieve whatever you set your mind to," he says.